Creating Perfect Acoustics Anywhere
.
Lyra - Panelling
Broadband high performance
Features
Type:
Absorber

Absorption Range:
315 Hz to 3150 Hz

Acoustic Class:
C | (aw) = 0,7
Purpose
- RT reduction
- Improving speech intelligibility
- Improving sound field distribution
- Extended mid-low frequency Absorption
- Flutter echo control
- High frequency absorption
- Specular reflection control
- Mid-High efficience Absorption
Lyra is a hybrid acoustic panel, combining a high performance acoustic core with a binary sequence perforation pattern, tuning the absorption spectrum of the panel to focus on mid-range frequencies and efficient phase diffusion. This versatile panels has myriad applications, focusing on improving speech intelligibility, sound field distribution and reducing general reverberation time. Lyra is available in 3 different perforations, each tuned to a certain frequency range. It is available in 4 wood finishes and 4 lacquered finishes. Lyra is made from select sustainable wood and a recycled PET core

The panelling range has a simple discreet installation system that allows for quick mounting and easy maintenance.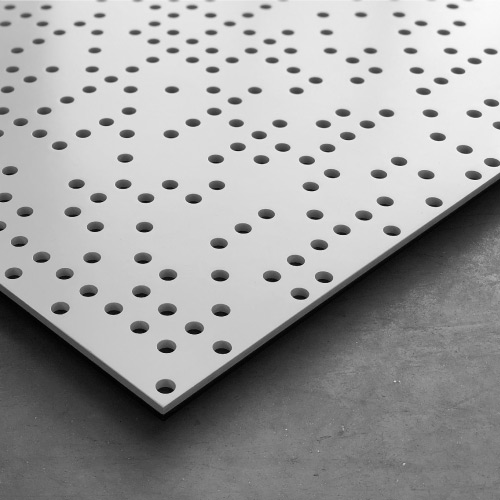 Performance
Lyra 12
/ Lyra 16
/ Lyra 20
A sustainable material with exceptional acoustic properties.
Recommended for
- Offices
- Conference Rooms
- Schools
- Comercial Cinemas
- Restaurants
Carbon positive Natural Wood - Carefully selected wood from controlled, sustainable sources.

Recycled PET absorption layer - Class 1 product according to the OEKO-TEX@ Standard 100.


Available Fire Rates:
FG | Furniture Grade
FR | Fire Rated

(FR) Materials:
- Natural wood veneer | Lacquered Fire retardant HMDF
- Fire retardant HMDF structural frame
- Sound PET absorption layer

(FG) Materials:
- Natural wood veneer | Lacquered HMDF
- Marine grade plywood structural frame
- Sound PET absorption layer


Range | Dimensions:
Lyra 12.32 | Lyra 16.32 | Lyra 20.32
- (FG) 800x1184x39mm
- (FR) 800x1184x40mm
Fixing Systems
Wall & Ceiling

+ Panelling Batten
Lyra - Panelling | Range
Panelling