Porto V
Speaker stand
Features
Type:
Speaker stand

Recommended for:
Studios | Recording rooms
The new Sessiondesk Speaker Stand Porto-V provides the most flexible and acoustically optimized solution for your speakers. Made of POLIPLEX, a Sessiondesk exclusive material, the stand is available in a selection of beautiful, durable natural wood finishes. Equipped with Superspikes and a massive core, the Porto-V is acoustically designed for perfection.
Porto-V is highly versatile, allowing you to adjust the angle, height and position of the head plate.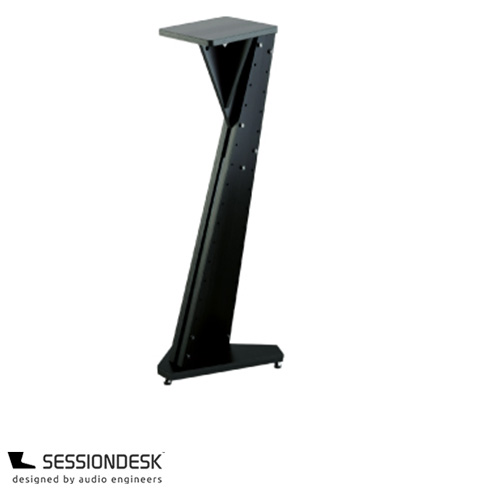 Give your Speakers what they deserve.
Purpose:
Studio rooms

Specs:
INTELLIGENT CABLE MANAGEMENT
All cables for your speakers run through a duct in the back and an opening in the foot - keeping your working area clean. With two additional screws your audio and power cables are kept within the stand.

ANTI-SLIP SURFACE
The head plate is covered with a specifically chosen anti-slip rubber, to keep your precious speaker in position, even when the head is tilted.

A PERFECT MATCH FOR YOUR SESSIONDESK
The shape of the Porto-V matches perfectly the Sessiondesk Modular systems outlines. So it is possible to put it as close as needed.


Dimensions:
Porto V | 415x375x1120mm
Overview
Type:
Studio desk
Recommended for:
Production and recording studios
Purpose:
Studio rooms
Dimensions:
Porto V | 415x375x1120mm
Dimensions: