Vector Desks ST
Design Signature
Features
Type:
Studio desk

Recommended for:
Studios | Recording rooms
Vector Desk is a brand-new addition to the Artnovion acoustic furniture range, a range in high demand from our clients.
Due to the calibrated combination of foam densities in its core, that balance the reverberation response of your room, The Vector Desk is perfect for long sessions of mixing and recording.
The Vector Desk was designed with an ergonomic shape, an upper area for your screen, and a lower and broad area for the keyboard and mixing gear, with complete design customisation of the wood, fabric and trim finishes.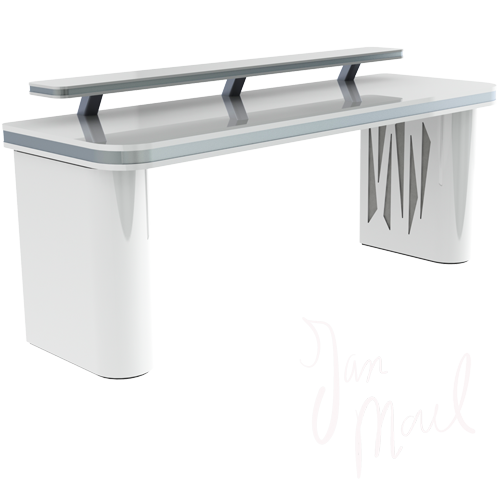 Jan Morel Signature Line
Purpose:
Recording, mastering, and Songwriting

Available fire rates:
FG | Furniture Grade

Dimensions:
Vector Desk ST | 2100x700x910mm

VABT (Velocity Absorber Bass Trap)
The Vector desk is equipped with VABT (Velocity Absorber Bass Trap) core, an innovative way to control room modes, utilizing a carefully calibrated combination of foam densities, taking advantage of layout of the Vector desk stands in high-velocity zones.


The synergy
Jan Morel's, Sessiondesk, and Artnovion

Designed by Jan Morel, with the highly advanced technology of Sessiondesk and acoustic knowledge of Artnovion, Vector Desk is just perfect in every aspect.
Overview
Type:
Studio desk
Recommended for:
Studios | Recording rooms
Dimensions:
Vector Desk ST | 2100x700x910mm
Dimensions:
2100x700x910mm
Available Finishes:
Fabric
Main
Wood detailing